Roy Innes was born in Regina, Saskatchewan, but grew up in Victoria, BC, where he went to high school and college and then over to the University of British Columbia for his MD and ultimately FRCSC specializing in eye surgery.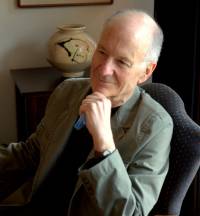 After 30 plus years of private and academic practice, he retired to Gabriola Island where he rekindled a love for creative writing. To ease his transition from science to the arts, he signed on to a course given by the Humber School for Writers and was assigned noted author, Olive Senior, as his mentor. A year later he had written the first of his novels and was encouraged by her to submit it for publication.
NeWest Press took it on and in 2005 Murder in the Monashees was released. That was followed in 2008 by West End Murders and in 2010, Murder in the Chilcotin. The fourth in the series The Extra Cadaver Murder appeared in 2016.
Roy's writing efforts have expanded from novels to short stories and more recently, poetry. He has been a finalist and semifinalist in numerous short story contests and his poetry was chosen to be included in An Anthology of Nanaimo Poetry 2016.
He has been an active hunter in the past prowling through the wilds of B.C. but more recently his outdoor activities have been reduced to long walks. Motorcycle touring, too, has been curtailed but he still gets out occasionally on his vintage 750 Honda Shadow. He lives on idyllic Gabriola Island with his wife, Barrie.