Reviews
On this page you'll find some reviews of Roy's current books: The Extra Cadaver Murder, Murder in the Chilcotin, West End Murders, and Murder in the Monashees.
---
Spring 2017

---
Winter 2017
Review: New crime fiction from Val McDermid, Ann Cleeves and others (incl. Roy Innes)
MARGARET CANNON
Special to The Globe and Mail
Published Friday, Jan. 06, 2017
[ ... ]
The Extra Cadaver Murder

By Roy Innes
NeWest Press, 370 pages, $15.95

This is the fourth in a series featuring RCMP Inspector Mark Coswell of Vancouver's "Q" division, but it's my first time reading Roy Innes, a retired eye surgeon. I have to assume from his precise prose and skillful plotting that he was a demon with the scalpel. The plot is a bit contrived -- the Irish Troubles crop up -- but it's still a quick and readable book. Innes does a great job setting the scene. We open in Vancouver in an anatomy class for medical students; the extra cadaver of the title is an eminent professor from the medical school. Insp. Coswell is called to the scene and the hunt begins. The first clue is that the professor was garrotted, not a crime of the moment. This was planned carefully right down to the nude body on the dissecting table. Coswell's attention is a bit addled by his fear that he's losing his memory. It's further confounded by a lively new addition to his team, a young woman who is clearly not his choice and who is bound to see that he changes some old habits. The personal issues don't cloud the essential mystery here.
[ ... ]
---
Fall 2016
An Active RCMP Officer's review - December 15, 2016
The Extra Cadaver Murder Roy Innes
I have finished your book and I found it to be a great read! Just the right amount of suspense, character development and quick moving plot line. I can definitely relate to the challenges of career advancement faced by your new female character Cpl Bostock. As with your three previous books, this one leaves me wanting more as fast as possible... no pressure there :)
I need to know what's going on with Insp Coswell's health??? Will Cpl James find love while navigating the complexities of being a gay man in a paramilitary organization? Will Cpl Bostock enjoy her new position and resolve her past?
You have done a fantastic job of capturing the human side of the RCMP. We are not a group of robots preprogrammed to deal with what we have to. Rather we are individuals with very human frailties and faults. The issue of the treatment of women in the force is of course close to me but also a timely topic. I'm glad you took it on in this book.
---
Fall 2016
Don Grave's review - GoodReads, November 27, 2016
The Extra Cadaver Murder Roy Innes
RCMP Inspector Croswell is back to solve his 4th crime in The Extra Cadaver Murder. This series is, without doubt, one of the finest police procedurals written by a current Canadian author.
A corpse is discovered on a slab beside a shrouded medical cadaver ready...or not...for a first year anatomy class. The story unfolds with a traditional team, Inspector Coswell, thoughtful, settled and worried about... (read the full review on the Goodreads site here.)
---
Review by Susan Yates - Gabriola Sounder, November 22, 2016
The Extra Cadaver Murder Roy Innes

Inspector Coswell - a Perfect (but not too perfect) P.C. Sleuth
I regrettably missed Roy Innes' launch of his latest crime novel on November 5, but I raced through The Extra Cadaver Murder, completely absorbed in all aspects of this fine mystery: plot, characters, setting, and Innes' brilliant writing style. This is no exaggeration, for I rarely read adult fiction, although I firmly believe that the real truths about human nature are found in novels.
I am even less well-informed when it comes to crime novels, and in order for me to enjoy such writing, the story must lead me in and on with characters I can relate to and a plot I can understand (but not solve, of course). I do believe that the Extra Cadaver Murder is Roy Innes' best novel yet - it's a meticulously crafted mystery, with an exciting and suspenseful ever-growing list of suspects. It's also a literary cornucopia of human strengths and foibles.
It isn't easy to write crime fiction that hangs together in every sense -- there is no room for plot error if you want readers to believe in the story from beginning to end. Innes has an uncanny ability to drop hints throughout the plot, develop intriguing tangents, and draw them all together like a perfectly woven tapestry at the novel's finale.
The Extra Cadaver Murder is based on much of Roy Innes' experience as a surgeon and former medical student at UBC, and it is impossible to tell (the writing has no ego, it is all about the characters) which of the outrageous incidents in the novel are real and which are fictional. As Innes himself says, "I don't think there's a novel been written that didn't have much of the author's life and people in it." I think it's safe for me to say here that the shcoking opening scene is based on reality, and it just gets better from there!
I particularly enjoyed this latest Inspector Coswell mystery because the endearingly admirable Coswell is growing in character (not to mention girth and age, which play into his hypochondriacal leanings).
The plot is firmly anchored in our current political times, with trenchant (but not didactic) comments from Coswell, his long-time assistant Corporal James, and new-on-the-scene Corporal Bostock about police corruption, gang violence, anti-feminism, and public disengagement.
The anxiety that Coswell feels in having to work for the first time alongside a female partner with a worrisome past (another mystery that enriches the plot) is tangible. Readers can almost feel his distress in trying to figure out the best way to make Corporal Bostock part of 'the team' without prying into her past or committing a damaging faux-pas. Coswell also has to come to terms with the fact that Corporal Bostock is replacing his long-time partner Corporal James, whose sense of humour and outrageous comments add immensely to the depth of character in this novel. I actually began to think that I had met Corporal James at one point in the book; what fun it would be to interview him for real!
One of Innes' writing strengths is his pacing, which is a bonus to someone like me who is a slow reader. Ordinarily it takes me almost 2 weeks to read a 350-page novel, but I happily read The Extra Cadaver Murder in only 4 evenings. It starts with a walloping scene and nowhere in the novel does the dialogue or action slow down. Humour plays a big part in Innes' writing, and his characters use it often but not superfluously to lessen the tension in some of the incidents that are fraught with danger and discomfort.
No less captivating than the characters and plot is the setting - Vancouver and more particularly the UBC environs, which many of Innes' readers will recognize.
One of the delightful aspects of the setting (or perhaps it relates more to Inspector Boswell) is the detailed descriptions of food - in restaurants, in the office, on the run, shared between protagonists and suspects, and generally as much a part of Inspector Coswell's habitat as his Chinatown apartment and the UBC-Vancouver General Hospital beat. As Innes himself notes, settings are important, so that we see what the characters do, and there is no doubt that a perfectly-described setting - the sights, smells and noises of downtown Vancouver for example, help to place the characters in their time and place.
As for time and place, I agree with librarian and book-store owner emeritus Phyllis Reeve that Inspector Coswell is "the perfect sleuth to guide our national broadcast system into the 21st century". A timely, west coast corollary to Murdoch, and one we can celebrate as readers, writers, activists, humanists, and possibly even feminists...but I'm not sure Inspector Coswell would agree because he's also very humble.
If you did not get a copy of The Extra Cadaver Murder at the November 5 launch, you can find one in the bookstore at Page's Resort and Marina - Gabriola's (south-end) haven for readers and writers.
The softcover trade format fits nicely into those seasonal stockings we like to stuff about a month from now.
---
Spring 2011
Review by columnist Betty Webb, Mystery Scene Magazine - a New York City publication (Spring 2011 issue)
Murder in the Chilcotin Roy Innes

Americans have become accustomed to books based on the US government's injustices against Native American tribes, but Roy Innes's stunning Murder in the Chilcotin (NeWest Press, $19.95) delivers a Canadian take on the same subject. In British Columbia, the injustices -- land grabs, broken treaties, and the wholesale slaughter of innocents -- are similar but the difference in terminology is illuminating. In Canada, the people we call Indians are referred to as First Nations (or Aboriginals), and the Canadian First Nations have many of the same grievances as do America's numerous tribes. Showcased in this book are the Tsanshmis, whose hostility flared 150 years earlier during the Chilcotin Wars, when the Canadian government hanged Indians who rebelled against the White incursion.
Memories tend to be long among First Nations people, so after a Mountie is found murdered in the wilderness, the Tsanshimis are blamed. A fresh batch of Mounties is flown up from Vancouver to investigate, and soon Richard Delorme, a young tribal policeman, finds his peaceful life in turmoil. His growing friendship with the Mounties puts him on the wrong side of the tribal chieftain, whose own three sons are the major suspects in the dead Mounty's murder. One of the more interesting facets of this unusual mystery is its focus on the younger generation against the traditionalists. Richard sees himself as the voice of the future when he remarks, "Let the elders eat the smoke in those old huts, we want to live like everyone else, in modern surroundings." In a stirring climax comprised of White versus Red, youth against elder, and tribal tradition against Canadian law, the grandeur of British Columbia's deep forests emerges as the lead character in this fascinating book.
---
December 2010
Review by Don Graves, Hamilton Spectator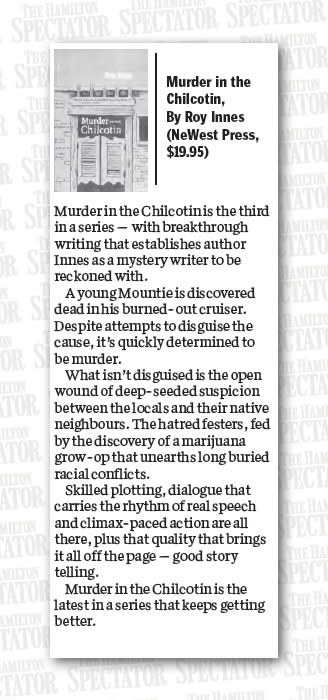 ---
December 2010
Review by George Szanto, author of Conquests of Mexico trilogy
Murder in the Chilcotin Roy Innes

How many reviews have you read of mystery novels which tell the story, not even withholding the ending, and so give the full plot away? This won't happen here -- Roy Innes's new novel Murder in the Chilcotin is too intriguing to spoil the mystery of it.

Innes knows the Chilcotin well, and one of the novel's pleasures is his descriptions of the country his detectives Inspector Coswell and Sergeant Blakemore, tracking down the killer of a fellow Mountie, are in the midst of: "...huge grassy fields gave way to cedar and hemlock forests, followed by spruce and subalpine fir as they rode higher... 'Caribou country,' [Hansen] said. 'They stay up top during the day but come down early morning and late evening to feed.'" Described with the authority of a man who has been there, one who has ridden through the spectacular landscape and hunted the land. And Innes has praise for those who move others from place to place -- the bush pilots: "Beaver aircraft have been the preferred choice for bush pilots for decades. Their massive radial piston engines give them remarkable short takeoff and landing possibilities with significant load weights." It's this kind of aircraft Coswell relies on in search for the killer: his pilot backs into the willows at one end of the lake, goes into his take-off run, and scratches the belly of the plane just above the trees at the opposite end. Later, after another takeoff, Coswell watches the colour of the land below him change: "But a peculiar purple dominated most of the wooded area, the result of dying pine trees attacked by a beetle that had spread across the province like wildfire." As Innes's pilot explains, if more logging had been allowed much of the value of the trees would have been saved and the beetles, without a source of food and breeding possibilities, would have died out.

This is Chilcotin country, a large chunk of the interior of British Columbia which runs from west of Williams Lake to east of Bella Coola. Famous for its beauty, and for the so-called war that was fought there: in 1864 road construction workers, white men, were killed in an altercation with the Tsilqot'in (Chilcotin) people. Altogether nineteen workers died. For this action five men, including the Chief and a sixteen year old boy, seeing themselves, as Innes quotes the Chief, "...prisoners of war,... not criminals," were hanged, before an audience of 250 white people. This incident sets the historical background for Murder in the Chilcotin, the history contributing to the ongoing tension between the First Nations people and the white settlers in the area, at times motivating the action. The Chilcotin War, fought a century and a half earlier, still underlies contemporary racial tension. Richard, a young member of the Chilcotin band who hopes to become a Mountie, serves as a valuable advisor to Coswell and Blakemore. When, later in the story, he is offered a glass of wine, he knows, from the smirk on the face of the white man who offered the alcohol, he's been pinioned on a two-headed spear: accept, and he'll be seen as a drunken Indian; reject, and he's shown fear. He chooses the latter, fully aware of the history behind his refusal.

As well, Innes's style is riddled with humour. When Coswell asks a rancher if this was a slow time of year for the cattle business, the rancher replies, "'Slow time all year round. Too many tofu eaters.'" When Coswell notes that Blakemore has "'lost faith in the wheel of justice,'" Blakemore responds, "'Too many flat tires.'"

Do Blakemore and Coswell find the killer? You'll have to read the novel to find out. And you'll thoroughly enjoy yourself all the way along.
George Szanto
George Szanto is the author of The Conquests of Mexico Trilogy and co-author with Sandy Duncan of the Islands Investigations International mystery series. You can reach his website at http://georgeszanto.com.
---
December 2010
from the Reviews section of the website ReviewingTheEvidence.com website,
a mystery review website that has a wide range of reviewers from around the world.
Review by Drewey Wayne Gunn
Book Review of Murder in the Chilcotin (original copy of the review available here).
Murder in the Chilcotin
by Roy Innes
NeWest, October 2010
315 pages
$19.95
ISBN: 1897126697


The Chilcotin, British Columbia: Two members of a First Nation kill a white Royal Canadian Mounted Policeman, Brent Hansen. Only a child witness knows for certain that it is murder and can identify the killers, a fact he keeps hidden, but the seething racial prejudices in the area threaten to boil over into something nasty anyway. Sergeant. Paul Blakemore, newly posted from Vancouver to head the RCMP West Cariboo district, and tribal police Chief Daniels do not have a cordial relationship on even the best of days. Blakemore calls Vancouver for help, and his former head, Inspector Mark Coswell, is dispatched to look into the situation.
Thus it appears that MURDER IN THE CHILCOTIN is an inverted mystery in which we will follow Coswell and Blakemore's apprehension of the murderers and their strategies to avert possible violence. But a third of the way through the novel, it suddenly, though not unexpectedly, turns into a classic whodunit — one in which the author scrupulously plays fair with the reader to the extent that, by paying minimum attention, he may solve the mystery well before Coswell does. In the process, however, Innes pulls off some of the most audacious games it has been my pleasure to witness. To say more is to risk a spoiler on my part.
This is the third Inspector Coswell mystery. Each of the three novels has used almost completely new sets of characters, different scenery, and even different narrative strategies. They do share some common themes, in particular an empathy for people on cultural margins and a great sympathy for those who try to bridge those cultural divides. Here, Richard Delorme is a First Nation member who aspires to become an RCMP officer. Coswell, in his fatherly manner, takes him under his care and begins grooming him for his difficult role.
The reader also becomes intimate with various other tribal members, members of Brent Hansen's household, game wardens, pot-growing tree planters, social workers, hunters, loggers, hotel keepers, waitresses, barmen, and the like. It would be interesting to get a member of a First Nation's take on the novel. It is my impression that Innes has succeeded as well as Tony Hillerman in entering a different psychology and a different world view. In fact, the reader probably will feel that she gains a keener understanding of what has fuelled the Native Americans' hatred than she does of what has caused the deep prejudices that rive the Hansens' ranch.
In his second career (until his retirement, he was a specialist in surgery of the eye), Innes is fast becoming a master mystery writer.
§ Drewey Wayne Gunn, Professor Emeritus at Texas A&M University-Kingsville, is author of THE GAY MALE SLEUTH IN PRINT AND FILM (2005) and editor of THE GOLDEN AGE OF GAY FICTION (2009), a collection of essays, including his own "Down These Queer Streets a Man Must Go," and a finalist for a Lambda Literary Award and a Benjamin Franklin Award.
Reviewed by Drewey Wayne Gunn, December 2010
---
December 2010
from the December 2010 archives of the DorothyL website,
an online discussion group for lovers of the mystery genre.
Review by Lou Allin
Book Review of Murder in the Chilcotin
Murder in the Chilcotin
Roy Innes
NeWest Press trade paperback $19.95

One of Canada's most seasoned professional crime authors and a fine gentleman of the old school, Roy Innes surpasses his high standards with each novel. This time he sends his Vancouver RCMP inspector to the wilds of British Columbia to the fabled Chilcotin region aka West Cariboo. Mountie Coswell and his sergeant Blakemore face an ugly situation with a young constable found dead in his burnt-out cruiser. It's no secret that there's a jurisdictional war going on with the clumsy and crass local tribal sheriff impeding their investigation. With hostile factions splitting the town and secrets around every corner, it's not going to be easy to learn the truth.

A young native police intern with a winning attitude joins them to help bridge some of the gaps between the two worlds. In this wild and beautiful territory, life hasn't changed much in a hundred years. It's ranching, timber, trapping, and mining. Racism is alive and well, and it's a double-edged sword.

The two local thugs tapped for the crime are long gone into the bush. Instead of cruisers on roads, old-fashioned horseflesh gallops to the rescue until a helicopter can be called in. And in this green and blue paradise of lakes, pastures, and mountains, marijuana grow-ops are nibbling on the edges, one way to pay the bills. The stakes are small, but the competition brutal. It's not long before another body or two complicate the matter. Forensic evidence is a different matter when weather can tip the scale.

Innes is known as an experienced moose hunter, and it's evident in this vivid depiction of a raw and beautiful country. He's more than familiar with the terrain in northern BC, as well as the language and rules at the back of the beyond. Innes draws in the reader from paragraph one: "Ravens wheeled above the gravel road, screaming their displeasure at one another, fighting for dominance over this tiny bit of Cariboo sky. A half-kilometre south lay B.C. Highway 20, a strip of asphalt running halfway across the province from Williams Lake to the Pacific coast. A curl of smoke rose on the western horizon from a small gypo mill..It was too soon for the smell of death to reach the great black birds, but the inert form lying on the road below held promise for them." In the forest, something is either having dinner, or it is dinner.

A man of great common sense and a subtle sense of humour, Coswell has a commitment to his job wherever it takes him and despite what enemy he may face. He's gentle with those whom he respects like the elderly native grandmother but tough with others who walk on the bad side of the law.

Coswell is growing as a character in each adventure as his creator flexes his muscles as a novelist. Western Canada is fortunate to have this compelling and talented voice.
Lou Allin
www.louallin.com
---
October 2009
from the Midwest Book Review
MBR Bookwatch, October 2009
Shelley's Glodowski's Bookshelf
http://www.midwestbookreview.com/mbw/oct_09.htm#shelley
Book Review of West End Murders
West End Murders
Roy Innes
NeWest Press, 201-8540-109 Street, Edmonton, Alberta T6G 1E6
9781897126271 $12.95

Roy Innes grew up in Victoria, British Columbia. He completed his M.D. at the University of British Columbia, specializing in eye surgery. After a successful career in that area, he attended the Humber School for Writers, and ended up publishing the novel he wrote during his course work. He enjoys off-roading in his Toyota Land Cruiser and touring on his motorcycle.

It is a distinct pleasure to review Roy Innes' second novel. His writing produces book that one does not want to ever end. This is particularly true of his second novel, WEST END MURDERS. Inspector Coswell and RCMP Corporal Paul Blakemore once again team up in this eerie whodunit. The relatively crime-free city of Vancouver isn't used to a serial killer. So when prominent gay men are found murdered, one after the other, it at first seems like a hate crime. But Inspector Coswell, a wise and savvy RCMP official, isn't fooled. He smells conspiracy when his lesser cohorts think the crime has been solved with the killing of two men caught at the border. He enlists the aid of some higher ups, which causes a bit of consternation in the ranks:

"It was Jane, Chief Inspector Ward's secretary, who notified Coswell, 'What have you done now?' She whispered into the phone. The Chief Inspector is livid. He's ranting about being kept in the dark and getting ready to have your head on a platter. You'd better get your story straight fast because you're to meet with him and the Mayor in the Mayor's office in thirty minutes. Good luck. It's been nice knowing you.' She hung up before he could ask if Gillings would be there."

Plot, characterization, and action are major components of this well-written mystery, but Roy Innes manages to infuse his book with something else that is hard to define. Perhaps it's the intelligence of a senior officer's point-of-view and experience that lend the story a high degree of credibility. Innes adds a little luxury to the surroundings. He obviously likes a good glass of wine, and his Inspector Coswell likes to play a sort of mental hooky with a great meal in a fine restaurant. But that's about all he allows himself, before he charges back into action, confounding his underlings. A great read indeed!

---
June 2008
from thespec.com / Hamilton Spectator
http://www.thespec.com/Entertainment/article/386360
Book Review
By Don Graves
Special to the Hamilton Spectator
thespec.com
West End Murders
West End Murders features two cops just trying to cope with their stress-filled lives: They're likable, trying to do their job, screw up on occasion and piss off their superiors with a degree of regularity. Inspector Coswell has a weakness for good food and great wine. His partner, Corporal Blakemore, gets his pleasures elsewhere.
Author Roy Innes places them into a well-plotted, energetically paced, realistic setting that keeps you turning pages, relating to their charms and foibles and taking away a full measure of entertainment.
West End Murders is a sequel to Murder in the Monashees and offers every indication of a series that could place Coswell and Blakemore with any of the famous crime-fighting duos that come to mind.
The novel is set in Vancouver, in the grip of a wave of gay-related hate crime. The politics escalate and Coswell finds himself stickhandling by a persistent and devious press, accommodating interforce rivalry and dealing with a troubling negative image in the eyes of the giant neighbour to the south.
Innes writes with a straight-ahead storytelling acumen of a seasoned veteran of police procedures. Characters take action, reflect and face challenges in a manner that exposes their strengths, flaws and desires.
West End Murders is on my 2008 must-read list for a strong reason: its potential to become an enduring Canadian series.


---
May 2005
from the Newsletter of the Office of the Ombudsman,
the Office of the Information and Privacy Commissioner,
and the Office of the Police Complaint Commissioner
Book Review
By Joanna Vander Vlugt (OPCC)
Murder in the Monashees
By Roy Innes

How do you leave a decapitated body in a forest without leaving behind a trail of blood or any footprints in the snow? You will have to read Roy Innes's Murder in the Monashees to find this out and believe me, it's intriguing.
Roy Innes is a retired Vancouver doctor who is now living on Gabriola Island. He spends his time writing mystery novels, and he is one of the featured mystery authors reading at the Chronicles of Crime bookstore-reading event also noted in this issue. In the beginning Murder in the Monashees has a little grisly detail with respect to the carrying out of the crime, but Roy writes of the crime with an Alfred Hitchcock panache, and he does not cheapen his prose with the typical slash and gore tricks of a cheap Hollywood movie. He draws his reader into the investigation which is what a good mystery is all about.
Murder in the Monashees takes place in the reader's backyard and deals with issues that British Columbians read in their papers and watch on their television sets. I found the location, Bear Creek, a welcome change from all the stories that are set on the mean streets of New York or Chicago. I want to read the stories taking place in my backyard, with characters and settings I can identify with.
Roy's work as a doctor comes across nicely in this novel. His short powerful lines about taking final breaths have the reader flipping the pages wanting more. I found myself cheering for many of the characters: from Corporal Blakemore, a hardnosed RCMP officer determined to bring the murderer to justice; to the young Dr. Zachary Bensen; to newly recruited RCMP Constable Ernie Downs; and Inspector Coswell, who suffers from motion sickness. And I can't forget the aspiring writer Heather McTavish. All of these characters have faults and weaknesses, making them human, down-to-earth, Canadian!
I look forward to reading more novels from Roy Innes. I hope he capitalizes on his medical background and provides his readers with a medical thriller somewhere down the road. But for now, I look forward to the next instalment of murder and mayhem with Corporal Blakemore and the rest of the inhabitants of Bear Creek.


---
Murder, He Said
Barry Hammond
Pacific Rim Review of Books

Roy Innes, Murder In The Monashees, NeWest Press.
Alberta's NeWest Press has come up with the goods in this new mystery by British Columbia author and former M.D., Roy Innes. It starts out with a fine crime puzzle: a hunter near Bear Creek, B.C., finds a body roped to a tree, the head separated from the torso and tied above it with a cryptic note attached. The trick is that the hunter's own tracks in the snow are the only ones leading up to the area where the body is found. There hasn't been a recent snowfall and the daytime temperature would seem to rule out the fact that the body's frozen solid. The hunter is an unlikely suspect and the depth compression studies of his tracks negate the idea of his having carried the body in. The use of a helicopter is also dismissed. The area is full of pine trees and the downdraft created by the propellers would have left the area littered with pine needles, something the RCMP is familiar with from other landing sites. So how did a body that seems to have been killed elsewhere get tied up there?
Innes also fills his tale with a great cast of characters. The town's two RCMP officers are an interesting contrast. Paul Blakemore is an outdoorsy guy who loves small town life and gets along easily with the locals unlike his wife who prefers an urban setting. He's ambitious and intelligent but has a tendency to let his enthusiasm carry him away. Ernie Downs, his partner, is better at paperwork, computers, reports, and is a loner. He's also gay, which has caused him problems at other postings. For these two, however, the partnership clicks and together they're a strong team. There's also a crusading female reporter who used to be a political activist in Vancouver. She's attractive but gets on Blakemore's nerves. Add to this mix a handsome young male doctor, a forensics expert, whose studies have left him no time to socialize. He's attracted to the reporter and vice versa. My favorite character though is Inspector Mark Coswell. He's sent out from Vancouver to help out with the investigation. Coswell suffers from motion sickness and can't take an airplane, helicopter, or even a car ride (when he's not driving) without spending the trip with his face in the barf bag. As a result, he always wears old, comfortable, loose clothes when travelling and arrives everywhere looking like a pale, sweating, slob. Despite that, he's a food and wine gourmet. With such an interesting cast, Innes has cleverly left room so that all the tensions and attractions between this group could easily play out over a series of books, rather than just this one engaging novel.
He's good at all the details of the police procedural and the book unfolds in a convincing and realistic manner. Innes also populates the novel with a host of fascinating minor characters, many of whom function as both red herrings and colorful background detail. The pace is hectic as the small investigative team has too many leads to cover without stretching themselves thin. Even with the import of a crime scene from Vancouver and extra help from Nelson, their resources are stretched to the breaking point as two other suspicious deaths follow on the heels of the first. When the first victim is identified as a German environmentalist, the small town case takes on international political overtones.
Murder In The Monashees is a terrific first novel and a first rate mystery. Even the ending is as unconventional as it is riveting. The reader will want to see much more from Roy Innes.
---
Murder in the Monashees
Roy Innes
NeWest Press
201-8540 109 Street, Edmonton, Alberta, CAN T6G 1E6
ISBN: 1896300898, $10.95 CAN/$7.95 U.S.
(From the midwest book review, October 2005)

Roy Innes is a native of British Columbia, where he grew up and attended the University of British Columbia. He worked in Vancouver as a medical doctor and retired in Gabriola Island, where he "reads and writes to his heart's content." He also enjoys hunting and hiking.

RCMP Corporal Paul Blakemore spends most of his time catching speeders at the sharp right-hand bend in the Crowsnest Highway. He loves hunting, fishing, and the laid back life of a rural setting. His partner is Constable Ernie Downs, who is a gentle but capable gay police man. Their world shatters as the report of a dead corpse, as yet unidentified, comes blaring over their police radio. The corpse turns out to be a prickly environmental protester who came from a moneyed background. Dr. Zachary Benson performs the autopsy and when he lays eyes on Heather McTavish, star reporter for the Bear Greek Bulletin, sparks fly. The superiors in Vancouver decide to bring in Inspector Mark Coswell to oversee the case, and in the meantime Ethel Roberts, who is Heather's best friend, is found murdered and her home is torched. A third murder intensifies the manhunt, and Heather becomes the probable next victim on the murderer's list even as the motive becomes clearer:

"'It was really a tragedy,' he recounted. 'The boy was just trying to earn some money between university semesters. He was working with a crew that was clearing trails in what is now the Carmanha Provincial park. He was bucking a big windfall fir when his chainsaw hit a spike in the tree causing a tooth to break off the chain. Somehow the fragment flew under his face shield and lacerated his right carotid artery. He bled to death.'"

Written in a straightforward manner, Roy Innes obeys all the rules in turning out the perfect mystery. The murderer is there in the background; pertinent clues abound; and the police have their problems tracking their man. He includes a captivating love story, his characters are ordinary people just trying to get by, and the killer has a human face. There is no shortage of action, and the book reads easily and has a refreshing twist. Innes is a mystery talent who should keep cranking out his product. An excellent read!